Key points:
The BOM states there's now three times the normal likelihood of La Niña developing over spring/summer 2020, which typically means more rain and an increased chance of flooding and tropical cyclones.
Plan ahead – prepare your home and/or business so they're protected from any potential extreme weather events.
Check your insurance policy to ensure you're adequately covered - pay particular attention to your exposure to storm and flood events.
A La Nina 'ALERT' status has been issued by the Bureau of Meteorology for the first time since February 2018.
The outlook has recently increased to an 'ALERT' status from a previous 'WATCH' status, putting the chance of a La Nina in 2020 at 70% which is around three times its normal likelihood. This typically means we are likely to see more (and heavier) rainfall during this years' spring and summer months, as well as an increased risk of flooding and tropical cyclones.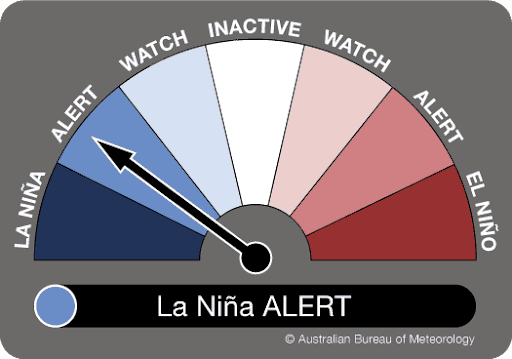 La Niña typically means:
Increased rainfall across much of Aus.
Cooler daytime temperatures (south)
Warmer overnight temperatures (north)
Shift in temperature extremes
Decreased frost risk
Greater tropical cyclone numbers
Earlier monsoon onset
With this increased risk in mind, homeowners and business owners across high risk regions need to place awareness and preparation as a top priority to help protect against a potential extreme weather event. See outlook maps below, or online here.
As the reality of climate change starts to really hit home, it's no longer safe to make decisions on the basis that an extraordinary event is unlikely to happen.
"The BOM's La Niña watch announcement is a great opportunity for brokers and customers to plan ahead and make sure we're all prepared and ready if an extreme weather event does eventuate."
Source: David Gow – QBE's Head of Major Loss Property Claims
Below are a few preventative steps you can take to better protect your home and/or business in the case of a flood or cyclone event.
Your insurance policy:
Review your cover to make sure you have adequate insurance in place, especially your exposure to storm and flood as it may be excluded under standard wordings.
Assess your flood exposure.
Take a close look at your policy exclusions, especially flood.
Consider business interruption insurance – are you covered should you need to close your business?
Your home or business:
Get a building inspection and follow the recommendations.
Maintain roofs and guttering, and ensure your buildings are watertight. Reducing the likelihood of damage prior to inspection is important.
Place stock and electrical equipment above the recommended level to avoid water damage.
If you have a basement, install a submersible pump.
Check drainage on your property. Your council should also be keeping water channels clear.
Consult with your local council.
Physically prepare your home and business for severe weather.
Develop an evacuation plan for you, your employees and your family.
"It's about being prepared and understanding your exposure, whether that relates to a private residence, or a commercial or industrial occupancy".
Source: Craig Rogers – QBE Risk Engineering Manager
Below is a list of emergency services by state - they house information and resources to help you plan and take practical actions to protect your assets and understand the risks:
Victoria State Emergency Service
New South Wales State Emergency Service
South Australia State Emergency Service
Tasmania State Emergency Service
Western Australia Department of Fire & Emergency Services
Queensland Government's get ready Queensland resource
Northern Territory Government's preparation hub
If you would like to chat with one of our specialist industry brokers for advice, to analyse your existing policy, or to gain a free assessment on the insurance coverage that is best for you, please just drop us a line.