---
Brokers are independent of all insurance companies, able to offer a variety of options and make impartial recommendations.
Use a broker for their industry/sector expertise, identifying day-to-day business risks, and for tailoring an insurance package that meets your needs.
Opting for a cheaper 'off the shelf' insurance policy is often not the best approach for insuring your business correctly.

Small business owners tend to be born optimists – passionate, resilient and driven – but running a small business comes with its own risks and challenges. That's why it pays to have an insurance broker in your corner to help identify and protect the day-to-day risks your business faces.
Whatever business you're in, finding the right level of insurance should be top priority to ensure you are properly protected. However, insurance can be complicated to understand due to the broad range of risks businesses face, the various packages available and associated costs, and even the jargon in the contract and the fine print that defines the terms & conditions.
Using an insurance broker means clear advice, more choice and a better price tailored to your business needs.
A broker ensures your claim is presented to the insurer in a clear and legible way to assist in a speedy settlement.
Price-conscious business owners usually believe if it is more cost effective going direct to the insurance provider. However this is often not the case, particularly with the multiple facets that are involved in operating a business these days.
A trusted adviser can add value to your business in a variety of ways that extend far beyond any initial cost saving you may find online. Specialised brokers (like Midland) can also offer a range of value-added services such as assistance with claims, employee education and contract renewal support, all of which are often included at no extra cost.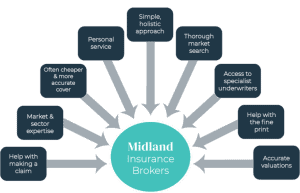 Remember, an insurance broker doesn't work for the insurance companies; they work for you and have a vested interest in the ongoing success of your business.
Developing an ongoing business relationship with a broker can be of considerable benefit, but make sure you invest a little time and effort into finding one that's the right fit for you.
Your broker should understand your future plans, the associated risks and how you like to do business. With those requirements ticked off, you can rest assured that they will continue sourcing the most suitable and most cost-effective cover that works for you and your business.